AIGA Detroit is pleased to partner with AIGA Unidos to bring you Freddy Diaz, a Mural & Graffiti artist from South West Detroit. AIGA Unidos, a multi-chapter collaboration, creates a space to empower and celebrate the lives, work, stories, and needs of creatives with a Latinx and Hispanic cultural heritage. Our first event series, Hispanic Heritage Talks, will feature virtual talks with Latinx and Hispanic creatives of various backgrounds and disciplines, taking place all throughout Hispanic Heritage Month! 
Join us on Tuesday, October 13 at 7:30 pm EST, for a casual Q&A with SW Freddy. He'll be sharing and answering questions about his career as a muralist and creating public art.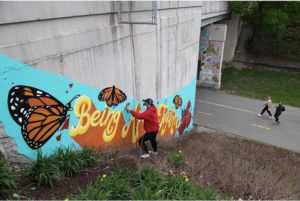 About Freddy Diaz: Coming from a graffiti background since 2005, Freddy is an internationally known artist recognized for his versatility in artwork that varies from murals, canvas, sculpture and clothing. Taking a root from graffiti art, SW Freddy was started as a way to enhance the community he has grown up in as a way to build a platform and relationships with local and international business owners. As a result, over the years SW Freddy has been able to tie into the corporate market as well as the art gallery culture.
"Every project is different so I try to learn from each one and take as much as I can give to each."