Join AIGA Detroit for our weekly installment of Zoom Chats. A new series dedicated to providing you with inspiration, dialogue, and insights from leading creatives in our industry. Grab a seat at lunch, and join us on Zoom!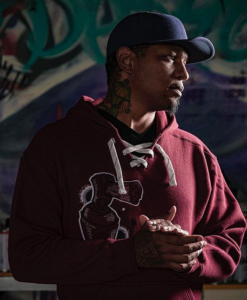 Today we chat with one of Detroit's most recognized graffiti artists, Antonio "Shades" Agee. A passionate Detroit native and public figure, he has been an active participant in the creation of the Detroit graffiti scene, as one of the first documented graffiti artists in the city. Since the early 90s, Shades has grown his roster of clients to include automotive players like Chrysler, Ford, and Toyota, and major organizations like Universal Studios, FIFA World Cup, Children's Hospital of Michigan, Pandora, and Vitamin Water. Shades also has two pieces archived at the Detroit Institute of Arts (DIA) and has exhibited his work at C-Pop Gallery and Motor Gallery, among other venues. As a prominent force in the evolution of graffiti as a world-renowned art form, Shades continues to challenge himself with new and exciting opportunities.
In this session, it'll be a complete Open Forum. Meaning YOU (the audience) will have the opportunity to ask Shades direct questions.