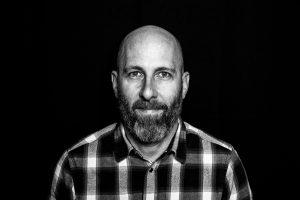 Chad Borlase
Title : Group Creative Director
Company : Sapientrazorfish
Number of Years in design : 21
Past Companies : SapientNitro, Cossettte Communications, McLaren McCann, Publicis, Parlmer Jarvis DDB, Young & Rubicam to name a few.
Education : Degree in Graphic Design, Technikon Natal, Kwa-Zulu Natal, South Africa
Member since : 2017
Website: http://ministry-of.com
About Chad
I work as a Group Creative Director across our region in four cities; Toronto, Cleveland and Detroit on numerous design, marketing and digital business transformational projects. I'm South African by birth and live with my American partner and two, soon to be 3 children, in Toronto, Canada.
 Who has been the most influential person in your career?
When I landed fresh off the boat in Vancouver from South Africa, I was fortunate to land a job at what was then Palmer Jarvis DDB with Chris Staples. He taught me to fast, relentless and how to use PR to help push work and make people see things differently.
 What is your favorite thing about design?
I love the way design can fundamentally change the way people see and interact with the world. We need more of that.
What is the most memorable moment of your career?
This business it crazy – it tends to sometimes be about the highs and lows and how you mentally navigate that. A perfect example is; I lost a giant piece of business one morning in surprise network change, and that afternoon won another. It's a rollercoaster sometimes – but one thing I still remember the most is winning best of show at the Canadian Digital Marketing awards for a campaign we did called "WTF" which was for a new Slurpee sold at a corner store – we did 19 films on a tiny budget and it was very rewarding to see our team win.
What advice would you give to someone just getting started in the design world?
I made the mistake of being scared about reaching out and fighting to get my foot in the door of the best agency I could find. I was nervous and insecure and I ended up not working for the best shop in town. It honestly put me back at least 5 years, as I was spending all my time doing average work and not learning enough. As I tried to jump jobs I noticed my work was not where it should be and I had to really work hard to change my game and I had to go backwards to go forward essentially, and unlearn the bad. It was a hard pill to swallow. I would highly recommend anyone starting out to do whatever it takes to get that internship, job or conversation with the best companies and people in field of design or advertising they want to be in. Push early and it will set you up for your career. Just please be willing to put in the hours though.
 What is your favorite thing about AIGA Detroit?
Well it's month two – so I guess this interview! Check in with me in a year.
 What inspires you as a designer?
I like talking to people. And a lot of them. Different perspectives challenge how I interact with my world and I love constantly re-evaluating things.
What are you excited to learn or work on next?
I think our industry is going through a massive change again, and it will be interesting to see where we end up on the other side. The use of data to drive creation of content that is more relevant for consumers is very exciting to me. I also think designing voice into experiences is finally here and we are just scratching the surface of a whole new change for us all.