Join us for a 24hr continuous streaming live music set, featuring 12 DJs – reppin' each of our respective cities (Berlin, Chicago, Detroit). Each DJ is playing for a specific charity in their city – please see below for further details.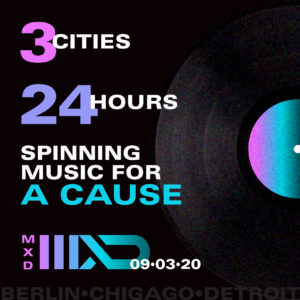 MXD (Music x Design) is a cultural exchange that pays tribute to the influence each of our 3 cities have had in bringing electronic music to the world.
This a collaborative event between AIGA Chicago, AIGA Detroit, Alter Ego Management, and Submerge Records.
S/O to our community partners SMZ!
__
DJ Lineup
AGYENA – Berlin
Body Mechanic – Detroit
Diallo from Detroit – Detroit
Drummer B – Detroit
John Collins – Detroit
ProblematicBlackHottie – Detroit
Tony Junior – Chicago
And more!
___
While this is a FREE event, we ask that you consider donating to any of the following non-profits:
Brave Space Alliance
Downtown Boxing Gym
Frankie Knuckles Foundation
GLADT e.V.
Marwen
Peace Tree Parks
Submerge Museum